ANTTHONY Zodiac Tee 537-876
Dearest Antthony… The Astrological Wheel begins with ARIES, (on the 1st House), and should be placed where you have SAGITTARIUS now, with the rest of the Signs following suit, (Taurus on the 2nd House, Gemini on the 3rd House, etc), as shown below. How do I know all this? Because I'm an Astrologer. I hope next time you're more careful when representing Zodiacal things in your line because this error is why I didn't purchase this Tee Alas, don't feel too bad, Sharif got it wrong on his Handbag as well, *sigh*.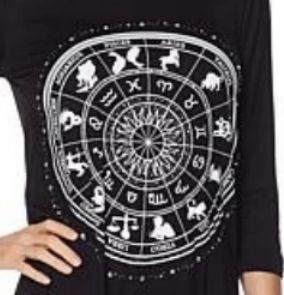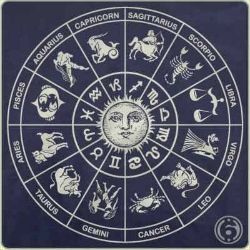 Thank you! This bothered me as well!,having studied Astrology , and having friends who are professional Astrologers! At first I thought maybe it was a personal chart, and this was his ascendant!

Hi, MAXI… You're welcome! There is no way this could be his personal Chart… it couldn't be anyone's personal Chart! Why? Because the entire Wheel is wrong. If you turn his Wheel so that Aries resides on the 1st House, you will see that Taurus would then be on the 12th House, (instead of properly on the 2nd House), Gemini on the 11th House, (instead of properly on the 3rd House), etc. It's as tho his entire Wheel was designed from a mirror-image of the 'Natural Wheel'. It's all so WRONG, *sigh*.

Here's Sharif's handbag print. While he's got the Wheel, (i.e. Houses), correct, the images for Libra, Sagittarius, and Aquarius are wrong. Libra is a machine, the only one in the Zodiac. It is represented by a Scale. Sharif has the Scale held by a woman… such as we see in the 'Justice is blind' statues that grace every courthouse. But, this is totally WRONG for Libra as only the Scale is representative of Libra in the Zodiac. Not only that, but Libra is a Masculine Sign in the Zodiac. As an aside, there are only 3 Human Beings represented in the Zodiac… Gemini, the Twins… Virgo, a Woman… and Aquarius, a Man.

Next, Sagittarius is also represented as a female Archer. WRONG. The Archer, in the Zodiac, is a Centaur, (half-man, half-horse), and is a Masculine Sign, just like Libra.

Lastly, Aquarius is also shown as a female pouring out the Aether. WRONG. Aquarius is also a Masculine Sign and is represented by a Man pouring out the Aether. It is also a Fixed Sign and, along with the 3 other Fixed Signs, represents the Mental Body, while Taurus represents the Physical Body, Leo the Emotional Body, and Scorpio the Spiritual Body.

All these misrepresentations drive me nuts too!

How do I love thee Fair Maiden, let me count the ways…….

Awww, mooncat… how I love thee too… and miss you like crazy! They STILL don't have Private Messaging here, grrrr.
Conversation Info
Posted in Fashion
5 Replies
05.28.17 9:28 PM
3 Participants