DAMAGED NECKLACE SHIPPED TO ME Aug 8-2017
Hi, Mods. I ordered a Heidi Daus 'Endless Possibilities' Necklace, (529-268; S/M; Cream colour), on July 30-2017. I just received it today and it's DAMAGED! One of the Magnets is missing from the Tassel.
The IPC on the box says, 'Child', so I know it was a previous Return that was now sent to me. I suspect it was Returned because it was damaged.
I'm very upset about this. I just can't believe you would send me 'Damaged Goods' that had already been returned before.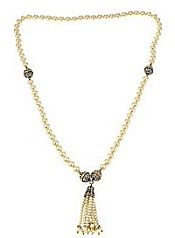 This topic was modified 1 year, 11 months ago by FaireMaiden.
This topic was modified 1 year, 11 months ago by FaireMaiden.
Thank you so much, krissy! I appreciate your quick response to me and for straightening all this out in such a timely manner! I'll get the damaged one in the mail to you tomorrow.

Moderator
08.08.17 8:18 PM

You're most welcome @fairemaiden! It has been my pleasure! Enjoy the rest of your day.

Moderator
08.08.17 7:57 PM

@fairemaiden, I am so sorry to hear of how you received your beautiful necklace! We still have this item available so I would be more than happy to send you out a new one. How does that sound?

Yes, krissy. I would be most happy if you would send me a new one. Please make sure it's INTACT and a S/M Size in the Cream colour. Thank you.

Should I just box the damaged one back up and send back to HSN? Can I use the Return Shipping Label? Will I be charged for Shipping back using the Label?

Moderator
08.08.17 8:07 PM

I will get that exchange right out to you @fairemaiden! Yes, please go ahead and box it up using the return label. I have made sure all fees associated with the Ez Return label have been waived so you wont be charged any return shipping. You will receive your replacement within 3-7 business days.
Conversation Info
Posted in Customer Service
6 Replies
08.08.17 8:18 PM
2 Participants